Compression project
>>
Video Area Home
MSU 3D-video Quality Analysis
Video Quality Measurement Tool 3D Project
Projects, ideas: Dr. Dmitriy Vatolin
Implementation: Alexander Voronov, Denis Sumin, Marat Arsaev, Vyacheslav Napadovsky, Alexander Bokov, Alexey Fedorov, Alexander Belous, Alexey Shalpegin, Vladimir Yanushkovsky, Sergey Lavrushkin
In cooperation with IITP RAS: Prof. Galina Rozhkova
June 16, 2015: Report #8 released!
---
Introduction
---
VQMT3D (Video Quality Measurement Tool 3D) project was created to improve stereoscopic films. Our aim is to help filmmakers produce high-quality 3D video by finding inexpensive ways of automatically enhancing film quality.
VQMT3D project is currently being developed. On this page we will collect recent information about the project.
---
List of Metrics
---
We have developed metrics for stereoscopic video that was captured with a system of two cameras (stereo rig). The following metrics are in use:
Vertical Parallax
Scale Mismatch
Rotation Mismatch
Color Mismatch
Sharpness Mismatch
Depth Budget
Depth Continuity
Stereo Window Violation Perceptibility
Temporal Shift
Channel Mismatch (Swapped views)
Crosstalk Perceptibility
Metrics for converted stereoscopic video are currently being developed.
Visualizations of detected problems enable a possibility of clear stereoscopic problem understanding with just one picture. The following pictures are examples of found problems and of these visualizations, too.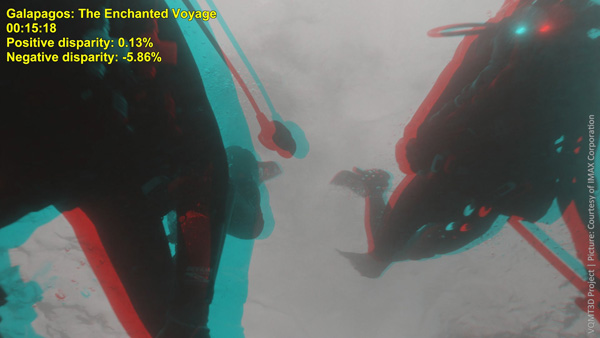 An example of detected strong horizontal disparity. Frame #22030 from Galapagos: The Enchanted Voyage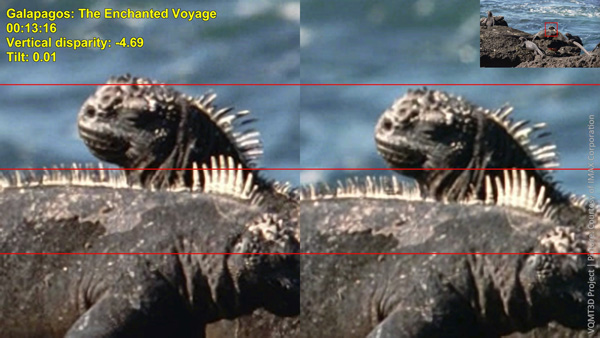 An example of detected vertical disparity. Frame #19105 from Galapagos: The Enchanted Voyage

An example of detected color mismatch. Frame #53725 from Galapagos: The Enchanted Voyage

An example of detected sharpness mismatch. Frame #25100 from Galapagos: The Enchanted Voyage
---
Reports overview
---
Film list:

Pirates of the Caribbean: On Stranger Tides
Resident Evil: Afterlife

Step Up 3D
Galapagos: The Enchanted Voyage
Into the Deep

Film list:

Dolphin Tale
Drive Angry
Hugo

The Three Musketeers
Sanctum

Film list:

Alice in Wonderland
Clash of the Titans
Conan the Barbarian

Green Lantern
Abraham Lincoln: Vampire Hunter

Film list:

A Very Harold & Kumar 3D Christmas
Pina
Step Up Revolution

Resident Evil 5: Retribution
The Amazing Spider-Man

Film list:

The Avengers
The Chronicles of Narnia: The Voyage of the Dawn Treader

Gulliver's Travels
Immortals
Wrath of the Titans

Film list:

The Amazing Spiderman
The Three Musketeers
Pirates of the Caribbean: On Stranger Tides
Dolphin Tale
Drive Angry

The Avengers
John Carter
G-Force
Abraham Lincoln: Vampire Hunter
Clash of the Titans

Film list:

Pina
Step Up Revolution
Resident Evil: Retribution
Hugo
Immortals

A Very Harold & Kumar 3D Christmas
Green Lantern
Conan the Barbarian
Wrath of the Titans
Alice in Wonderland

Film list:

A Very Harold & Kumar 3D Christmas
Abraham Lincoln: Vampire Hunter
The Avengers
Alice in Wonderland
Conan the Barbarian
The Chronicles of Narnia: The Voyage of the Dawn Treader
Clash of the Titans
Drive Angry
Dolphin Tale
Galapagos: The Enchanted Voyage
Green Lantern

Gulliver's Travels
Hugo
Immortals
Into the Deep
Pirates of the Caribbean: On Stranger Tides
Pina
Resident Evil: Afterlife
Resident Evil: Retribution
Sanctum
Step Up 3D
Step Up Revolution
The Amazing Spider-Man
The Three Musketeers
Wrath of the Titans

Over 100 films are in film list, including:

Creature from the Black Lagoon (1954)
World War Z (2013)
Dredd (2012)
Thor (2011)
The Hobbit: An Unexpected Journey (2012)
Life of Pi (2012)
Oz the Great and Powerful (2013)
The Legend of Hercules (2014)

Men in Black 3 (2012)
Dial M for Murder (1954)
Pirates of the Caribbean: On Stranger Tides (2011)
The Last Airbender (2010)
TRON: Legacy (2010)
Jack the Giant Slayer (2013)
The Great Gatsby (2013)
Pacific Rim (2013)
The Avengers (2012)

Report 10 (Overall analysis of 105 movies)

Approximate release date: 2nd-3rd quarter of 2017

The film list includes 105 movies
---
Publications
---
When you want to make a reference to this project, please refer one of the following publications:
---
Acknowledgments
---
We wish to acknowledge the help provided by CMC Faculty of Lomonosov Moscow State University.
CMC Faculty provided us with extra computational capabilities and disk space which was needed for our research.
This work is partially supported by the Intel/Cisco Video Aware Wireless Network (VAWN) Program and by grant 10-01-00697a from the Russian Foundation for Basic Research.
---
Invitation to the Project
---
We invite stereographers, researchers and proofreaders to join our 3D-film analysis project. We are open for collaboration and appreciate your ideas and contributions. We love to receive feedback and learn from the experience of people in the film-production industry.
If you would like to participate, please contact us:
.
Stereographers
Currently, we are preparing our first reports on stereo-video quality of full-length films. We invite professional stereographers to comment on our reports. Our expertise is in research and in creating metrics, but the causes of some artifacts may be unclear for us. Analyzing these causes and estimating the severity of artifacts are a crucial part of our reports, so we welcome expert comments on these issues.
Every comment in the final report will be attributed to its respective author. We expect that some people will select comments of a concrete author, and we wish that your comments will be selected. Our hope is that these comments will all be beneficial for our readers.
If you are currently working on a film project, you may be interested in discussing the possibility of analyzing your film, or some portion thereof, before its release to help improve its 3D quality.
Researchers
Researchers working on stereoscopic quality assessment are welcome to collaborate with us on our project. We can run your algorithms on huge amounts of data and jointly publish the results.
We have developed a system to calculate metrics for full-length films. These metrics are loaded into the system as plug-ins, and our SDK for creating metrics is available on request. Thus, researchers need only provide binaries—algorithms and source code can remain confidential.
Calculations for one film take about a week (this estimate is for a full-length film, with calculations performed using three computers). GPGPU acceleration (CUDA or OpenCL) is available.
For researchers who would like to participate, we recommend sending us metrics that are already or soon to be published. Inclusion in our report may increase your citation index and the reputation of your work among experts. We can provide raw results from your metric for in-depth analysis or for use in literature. If your metric turns out to be useful, we will gladly include your results in our film comparison.
Proofreaders
We welcome readers who have strong English skills or who can help improve the clarity of our literature.
Any reader that offers numerous constructive comments on how to fix errors or otherwise improve the report will be included in the authors list. Everyone who help us improve our reports will be mentioned in the acknowledgments section.
Most importantly, proofreaders who are willing to help us improve our reports will be among the first to receive draft versions (under the condition of a signed nondisclosure agreement).
---
Contacts
---
| | |
| --- | --- |
| For questions and proposition please contact us | |
Video resources:
3D and stereo video
Projects on 3D and stereo video processing and analysis
MSU Video Quality Measurement tools
Programs with different objective and subjective video quality metrics implementation
Codecs comparisons
Objective and subjective quality evaluation
tests for video and image codecs
x264 parameters efficiency comparison
Public MSU video filters
Here are available VirtualDub and AviSynth filters. For a given type of digital video filtration we typically develop a family of different algorithms and implementations. Generally there are also versions optimized for PC and hardware implementations (ASIC/FPGA/DSP). These optimized versions can be licensed to companies. Please contact us for details via video(at)graphics.cs.msu_ru.
Filters for companies
We are working with Intel, Samsung, RealNetworks and other companies on adapting our filters other video processing algorithms for specific video streams, applications and hardware like TV-sets, graphics cards, etc. Some of such projects are non-exclusive. Also we have internal researches. Please let us know via video(at)graphics.cs.msu_ru if you are interested in acquiring a license for such filters or making a custom R&D project on video processing, compression, computer vision.

Semiautomatic Objects Segmentation
Deblurring filter
Video Content Search

Video codecs projects
Different research and development
projects on video codecs
Other
Other information
Bookmark this page:
Add to Del.icio.us
Digg It

reddit
| | |
| --- | --- |
| | Last updated: 16-June-2015 |
---
Project updated by
Server Team and MSU Video Group
Project sponsored by YUVsoft Corp.
Project supported by MSU Graphics & Media Lab