Video Transcoding Clouds Comparison 2019
---
Take part in further cloud encoding services testing!
If you use any cloud for video encoding, participate in testing its performance to compare it with other services



---
Navigation
---
Description
---
This report represents the results of independent comparison of cloud-based video-encoding services. Cloud-based video-encoding services are becoming more popular, and selecting one for your tasks is quite difficult. In our experience, encoding performance may entirely differ from service to service. The results of our comparison showed that in the case of cloud services that provide the same quality, the file-size difference can reach 100% and the price difference is 700%.
Download report
Cloud Report
Objective comparison of cloud-based video-encoding services
Released on December, 3


Free full version
(PDF & HTML documents)


6 cloud encoding services
Alibaba, Amazon Elastic Transcoder, AWS Elemental MediaConvert, Coconut, Qencode, Zencoder
4 FUllHD video sequences
epson, fountains, hawk and hockey from vimeo website
Three resolutions
FullHD, HD, SD
Three encoding use cases (presets)
Encoding with similar options, default options of tested services and with tuned options for our test videos
HTML and PDF documents
118 interactive charts and 33 pages
---
List of compared services
Cloud Encoding Service
Supported standards
1
Alibaba
Alibaba
H.264, HEVC
2
Amazon Elastic Transcoder
Amazon
H.264
3
AWS Elemental MediaConvert
Amazon
H.264, HEVC
4
Coconut
Coconut
H.264, HEVC
5
Qencode
Qencode
H.264, HEVC
6
Zencoder
Zencoder
H.264, HEVC
---
Overall conclusions
---
The report includes the results of services comparison with three sets of encoding presets. The first is a comparison using similar (balanced) encoding options (equal encoding recipes set for all services). The second is a comparison using presets which are set as default on service. And one more part included a case with our options chosen for test videos, which were applied to one encoding service which was the only that has an ability to provide a big number of options.
Boasting high compression efficiency and low price, Qencode and Coconut HEVC are the winners
Zencoder and Alibaba cloud encoding services shows the best results considering only compression efficiency
H.264 encoding is cheaper, but the loss of compression efficiency becomes noticeable
Similar encoding presets
According to only YUV-SSIM quality scores, the least bitrate for similar quality among our competitors on average is provided by:
First place: Zencoder (HEVC, balanced preset)
Second place: Alibaba (HEVC, balanced preset)
Third place: Qencode (HEVC, balanced preset)
Loading...
We did not take into account encoding time, but considered the price. The price and quality trade-off on average for test videos is shown in the plot below. There are three Pareto-optimal encoders:
Qencode (H.264)
,
Qencode (HEVC)
and
Zencoder (HEVC)
.
Loading...
Tuned presets
One part of our comparison involved the use of additional encoding parameters to increase encoding performance. It involved pre-measurements to find good presets for each video, which then was provided to encoding service. The only service which allows users to vary a big number of encoding settings is Qencode (11 options which influence encoding performance: trellis, me_method, partitions, b_strategy, me_range, i_qfactor, qcomp, refs, directpred, sc_threshold, subq).
First place in the quality competition goes to Qencode (H.264, tuned presets), second place goes to Alibaba (H.264, balanced preset), and third place to Qencode (H.264, balanced preset).
Loading...
---
Test video set
---
Test video set included 4 FullHD videos which were chosen from MSU video collection. In this year, the collection was enlarged up to 18418 sequences which were chosen from 700000+ user-generated videos posted on Vimeo website.
---
Take part in cloud video-encoding services comparison
---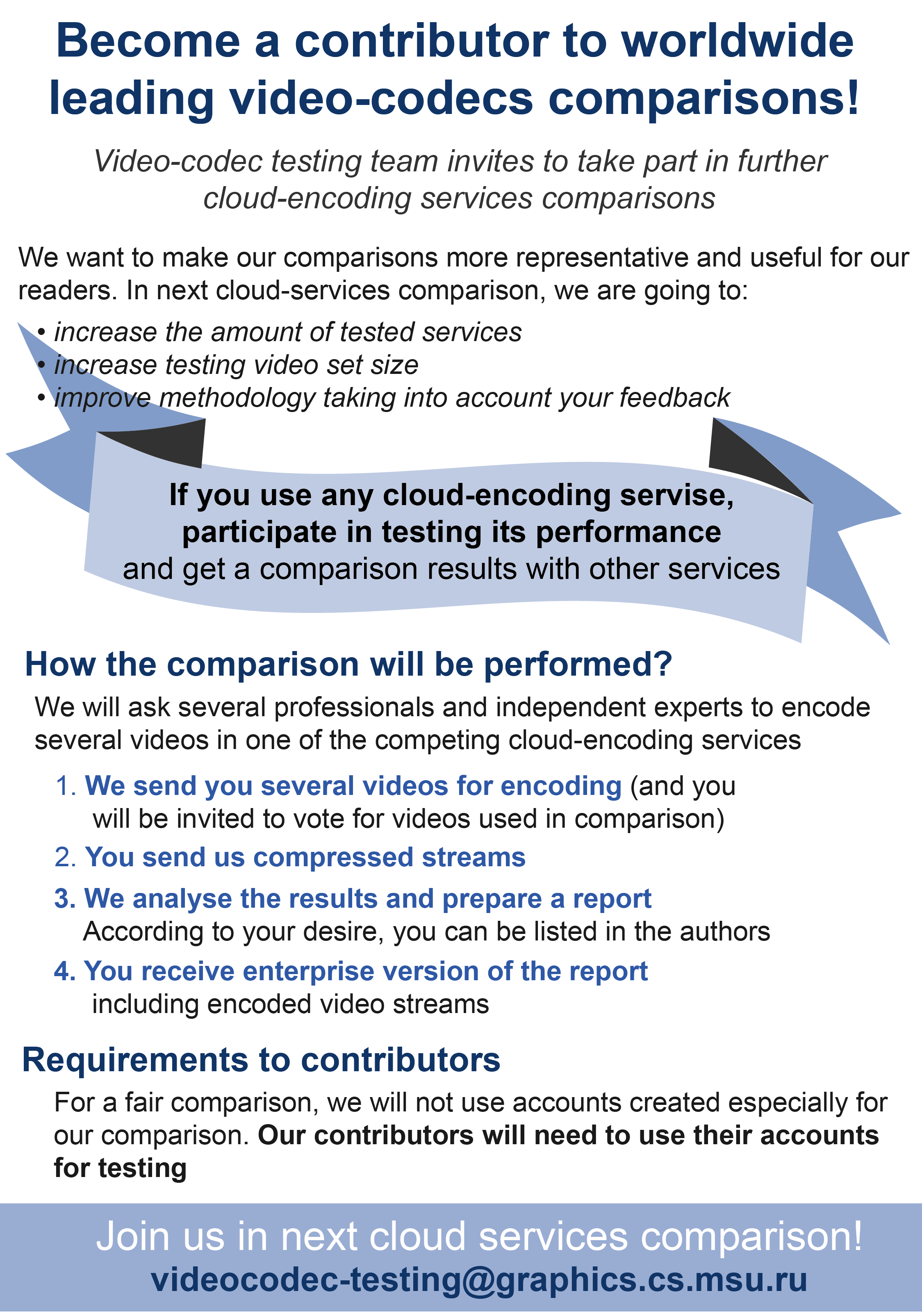 ---
Share with us your opinion about comparison
---
---
Contact Information
---
Subscribe to report updates
---
Materials about MSU Codec Comparison
---
See all MSU Video Codecs Comparisons
MSU video codecs comparisons resources:
---
Other Materials
---
Video resources:
3D and stereo video
Projects on 3D and stereo video processing and analysis
MSU Video Quality Measurement tools
Programs with different objective and subjective video quality metrics implementation
Codecs comparisons
Objective and subjective quality evaluation
tests for video and image codecs


9-th MPEG4-AVC/H.264 Comparison

Public MSU video filters
Here are available VirtualDub and AviSynth filters. For a given type of digital video filtration we typically develop a family of different algorithms and implementations. Generally there are also versions optimized for PC and hardware implementations (ASIC/FPGA/DSP). These optimized versions can be licensed to companies. Please contact us for details via video(at)graphics.cs.msu_ru.
Filters for companies
We are working with Intel, Samsung, RealNetworks and other companies on adapting our filters other video processing algorithms for specific video streams, applications and hardware like TV-sets, graphics cards, etc. Some of such projects are non-exclusive. Also we have internal researches. Please let us know via video(at)graphics.cs.msu_ru if you are interested in acquiring a license for such filters or making a custom R&D project on video processing, compression, computer vision.

Semiautomatic Objects Segmentation
Deblurring filter
Video Content Search

Video codecs projects
Different research and development
projects on video codecs
Other
Other information
Last updated: 12-May-2022
---
Server size: 8069 files, 1215Mb (Server statistics)
Project updated by
Server Team and MSU Video Group
Project sponsored by YUVsoft Corp.
Project supported by MSU Graphics & Media Lab